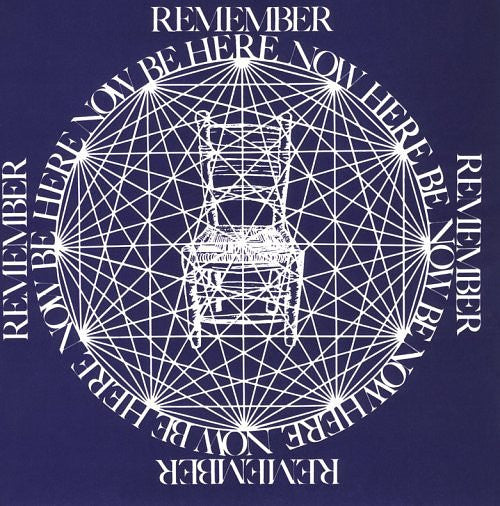 In 1970, Ram Dass' Be Here Now became the counter-culture bible for thousands of young people seeking enlightenment in the midst of the darkness of Vietnam. It was a pioneering bridge, written in colloquial language, from the psychedelic 60s to eastern spirituality, and over the years has sold more than two million copies.

LOOK INSIDE
About Be Here Now
"We're talking about metamorphosis
We're talking about going from a caterpillar to a butterfly
We're talking about how to become a butterfly."
In March 1961, Professor Richard Alpert – later renamed Ram Dass – held appointments in four departments at Harvard University. He published books, drove a Mercedes and regularly vacationed in the Caribbean. By most societal standards, he had achieved great success… And yet he couldn't escape the feeling that something was missing.
Psilocybin and LSD changed that. During a period of experimentation, Alpert peeled away each layer of his identity, disassociating from himself as a professor, a social cosmopolite, and lastly, as a physical being. Fear turned into exaltation upon the realization that at his truest, he was just his inner-self: a luminous being that he could trust indefinitely and love infinitely.
And thus, a spiritual journey commenced. Alpert headed to India where his guru renamed him Baba Ram Dass – "servant of God." He was introduced to mindful breathing exercises, hatha yoga, and Eastern philosophy. If he found himself reminiscing or planning, he was reminded to "Be Here Now." He started upon the path of enlightenment, and has been journeying along it ever since.
Be Here Now is a vehicle for sharing the true message, and a guide to self-determination.
With over 150 pages of metaphysical illustrations, practical advice on how to implement a yogic regiment, and a chapter dedicated to quotes and book recommendations, Be Here Now is sure to enrich your emotional, physical, and spiritual life.
About Ram Dass
Ram Dass first went to India in 1967. He was still Dr. Richard Alpert, an already eminent Harvard psychologist and psychedelic pioneer with Dr.Timothy Leary. He continued his psychedelic research until that fateful Eastern trip in 1967, when he traveled to India. In India, he met his guru, Neem Karoli Baba, affectionately known as Maharaj-ji. Maharaj-ji gave Ram Dass his name, which means "servant of God." Everything changed then—his intense dharmic life started, and he became a pivotal influence on a culture that has reverberated with the words "Be Here Now" ever since.
Be Here Now, Ram Dass's monumentally influential and seminal work, still stands as the highly readable centerpiece of Western articulation of Eastern philosophy, and how to live joyously 100 percent of the time in the present, luminous or mundane. Be Here Now continues to be the instruction manual of choice for generations of spiritual seekers. Forty years later, it's still part of the timeless present. Being here now is still being here now. Ram Dass now resides on Maui, where he shares satsang, kirtan, and where he can amplify the healing process in the air and waters of Hawaii. His work continues to be a path of teaching and inspiration to so many. Ram Dass's spirit has been a guiding light for three generations, carrying along millions on the journey, helping free them from their bonds as he has worked his way through his own.
Product Details
Format: Paperback | 416 Pages
Published: Harmony

Oct 12, 1971

 

Dimensions: 7-7/8 x 8 inches

ISBN 9780517543054
Share