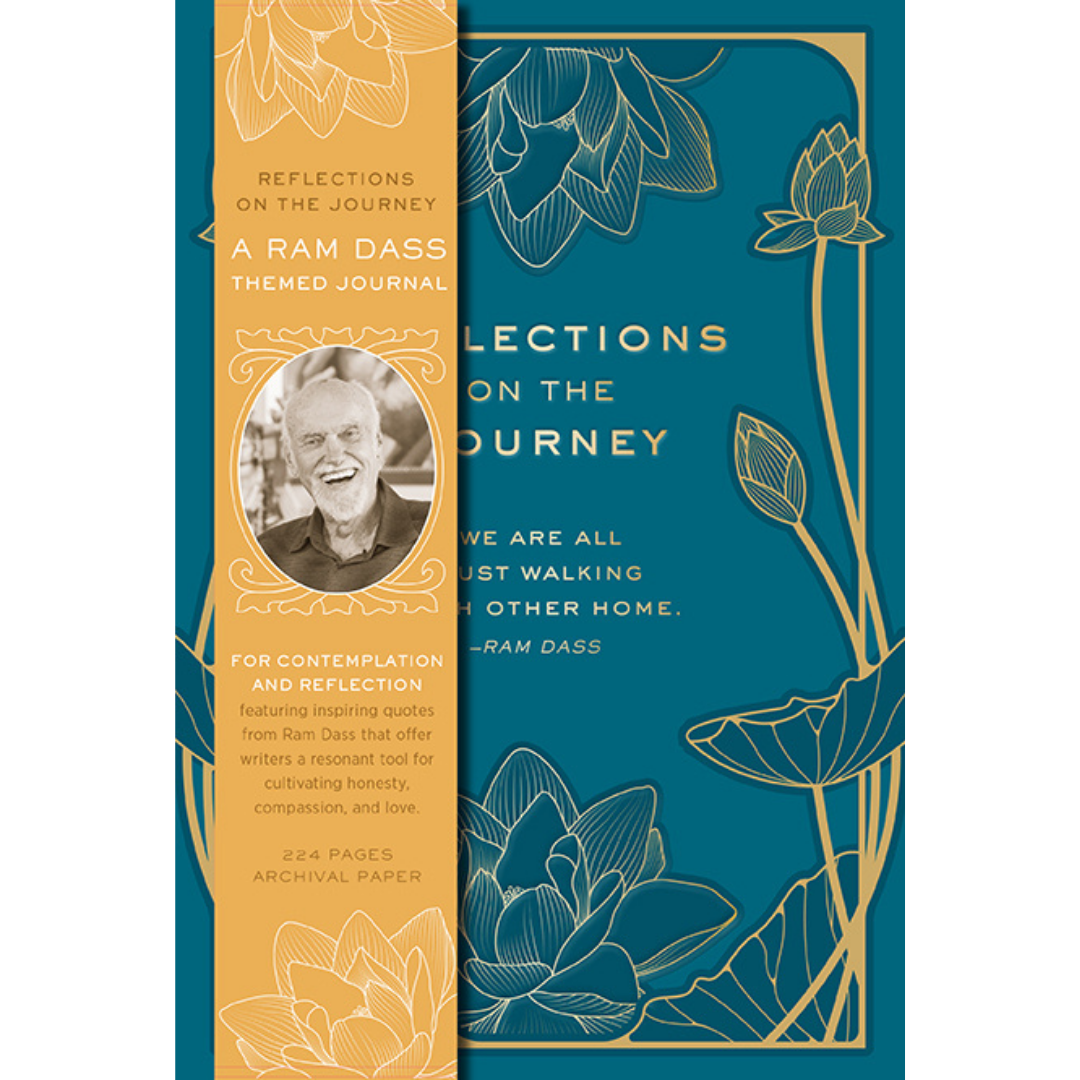 Reflections on the Journey: A Ram Dass Inspired Journal
"Together we are all on a journey called life. We are a little broken and a little shattered inside. Each one of us is aspiring to make it to the end. None is deprived of pain here and we have all suffered in our own ways. I think our journey is all about healing ourselves and healing each other in our own special ways."
-Ram Dass
Reflections on the Journey is a Ram Dass inspired journal containing 12 contemplative quotes by Ram Dass and 190 lined pages for writing and reflection.  The quotes were carefully curated to inspire readers and writers to look a little deeper within themselves and witness the truth of their being.  Each quote contains loving and heartening Ram Dass wisdom offering readers and writers a reflective tool to help follow their unique life path with honesty, compassion and love.
Product Description
Ram Dass' remarkable life has been nothing short of what one would imagine to be  the full human experience. He fervently embarked on the journey of life with rare openness, surrender and loving awareness. When confronted by the universe with difficult lessons and challenges, Ram Dass sought  to use those experiences as a vehicle for growth, transformation and understanding. His legacy has left us with enough wisdom and encouragement to follow our own unique roadmap on this journey called life.
Reflections on the Journey contains tidbits of wisdom from Ram Dass' teachings on the path of life. Inside you will find 12 Ram Dass reflections on the spiritual journey dispersed between 190 lined pages for you to write away.

Quotes
"The spiritual journey is individual, highly personal. It can't be organized or regulated. It isn't true that everyone should follow one path. Listen to your own truth."

"If you listen to your own inner voice, it will tell you where you are now, and which method will work best for you in your evolution towards the light."
"Trust the messages coming from your heart and intuition."
"Start from where you are – not where you wish you were. The work you're doing becomes your path."
"It is important to expect nothing, to take every experience, including the negative ones, as merely steps on the path, and to proceed."
"The spiritual journey is not about acquiring something outside yourself. Rather, you are penetrating the layers and veils to return to the deepest truth of your own being."

"It's only when caterpillarness is done that one becomes a butterfly. That again is part of this paradox. You cannot rip away caterpillarness. The whole trip occurs in an unfolding process of which we have no control."
"Working on our own consciousness is the most important thing that we are doing at any moment."
"The universe is made up of experiences that are designed to burn out your attachment, your clinging, to pleasure, to pain, to fear to all of it. And as long as there is a place where your vulnerable, the universe will find a way to confront you with it."
"As you quiet your mind, you begin to see the nature of your own resistance more clearly. Struggles, inner dialogues, the way in which you procrastinate and develop passive resistance against life. As you cultivate the witness, things change. You don't have to change them. Things just change."

"Cosmic humor, especially about your own predicament, is an important part of your journey."  
Journal Preview
Item Details
Format: Hardcover Journal, 224 Pages
ISBN13: 9781647224882
Publishing: Mandala Publishing & Love Serve Remember Foundation; November 23, 2021

Weight: 16.5 oz.
Dimensions: 6 x 0.59 x 9 Inches
Language: English
Share