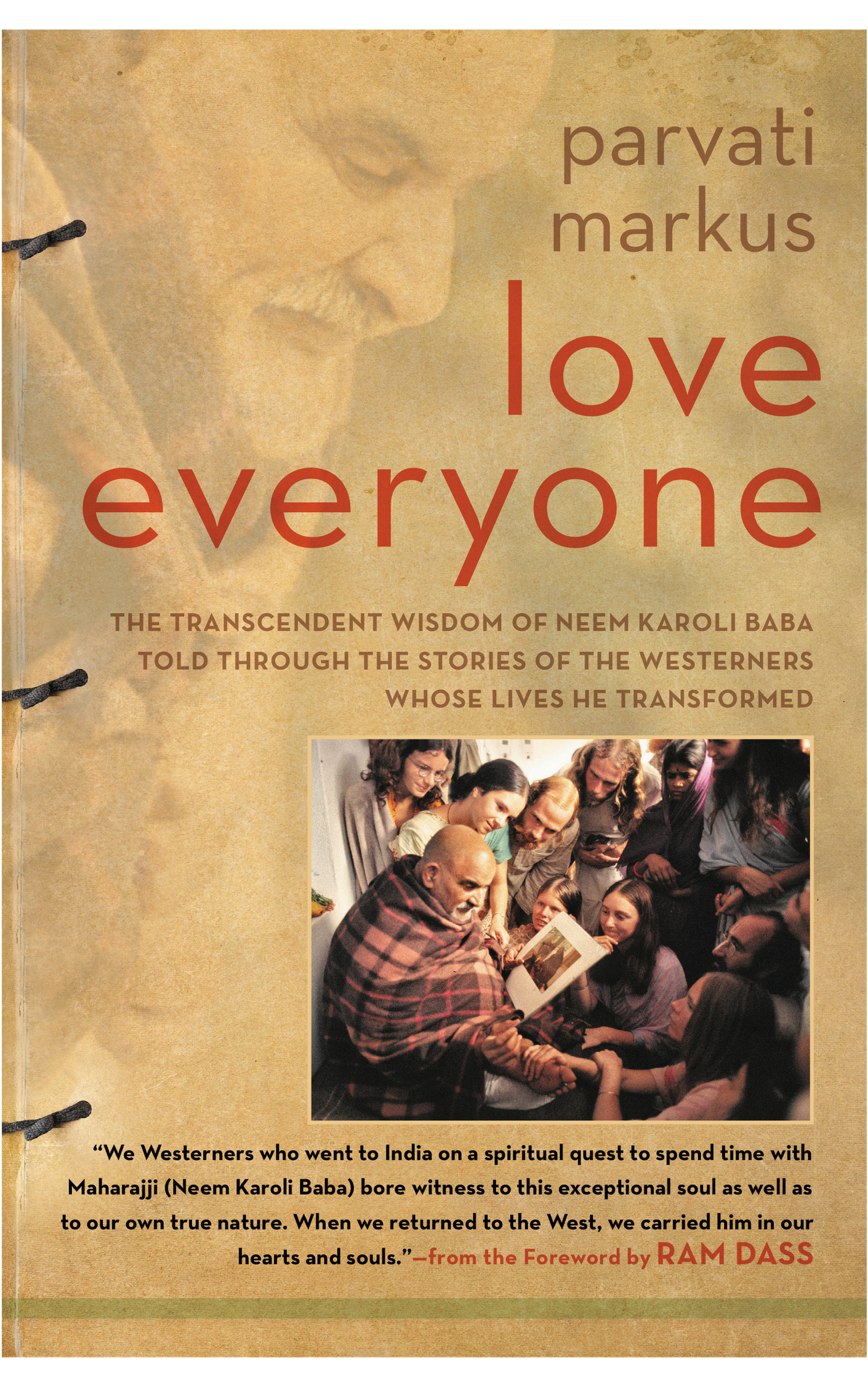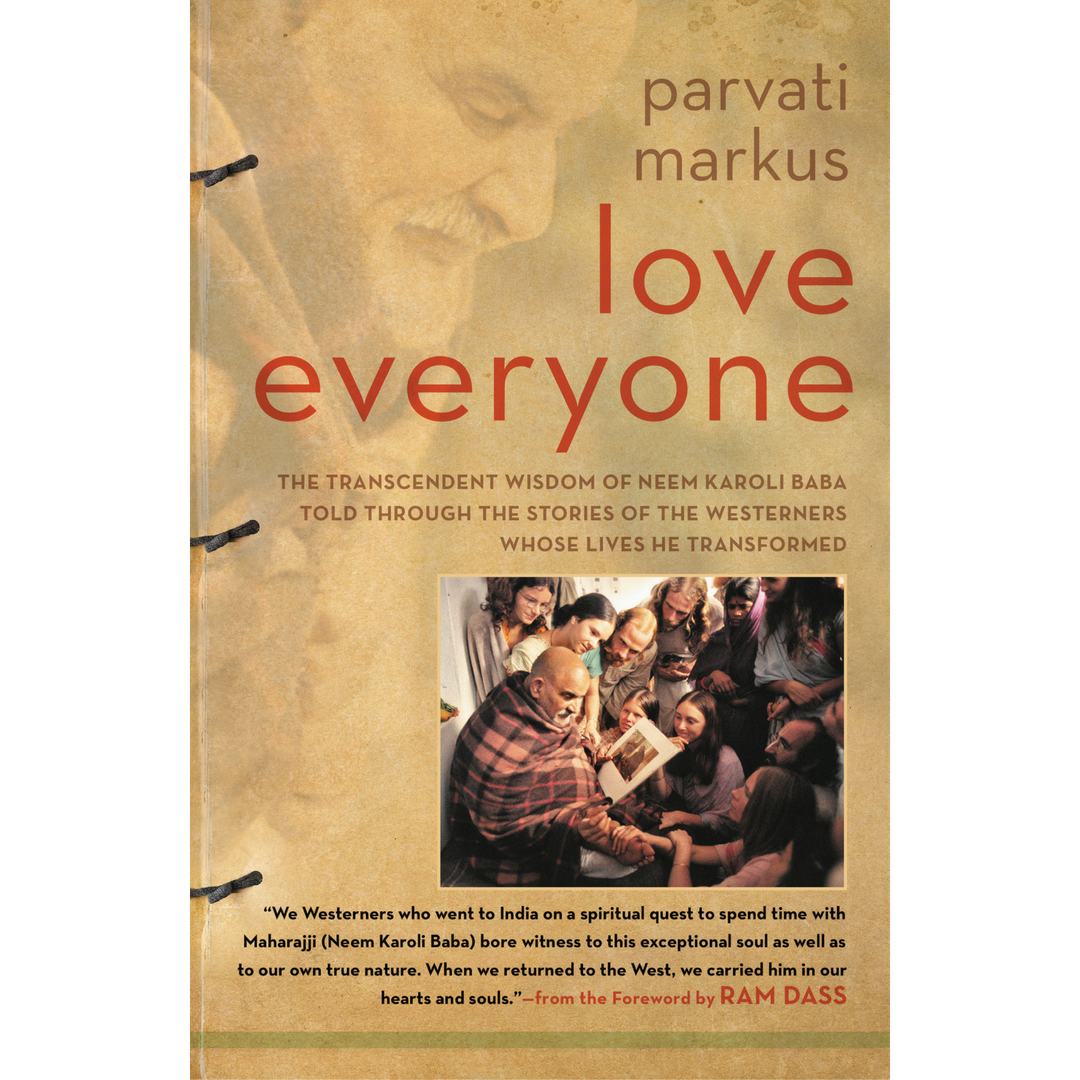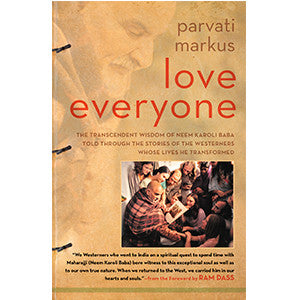 Love Everyone
The transcendent wisdom of Neem Karoli Baba told through the stories of the westenersrs whose lives he transformed.
A celebration of Neem Karoli Baba, one of the most influential spiritual leaders of our time, the divine guru who inspired and led a generation of seekers—including Ram Dass, Daniel Goleman, and Larry Brilliant—on life-changing journeys that have ultimately transformed our world.
In 1967, Baba Ram Dass—former American Harvard professor Richard Alpert—left India to share stories of his mysterious guru, Neem Karoli Baba, known as Maharajji. Introducing idealistic Western youth to the possibilities inherent in spiritual development, Ram Dass inspired a generation to turn on and tune in to a reality far different from the one they had known.
From the spring of 1970 until Maharajji died on September 11, 1973, several hundred Westerners had his darshan (in Hinduism, the beholding of a deity, revered person, or sacred object). Those who saw him formed the Maharajji satsang—fellow travelers on the path. Love Everyone tells the stories of those who heard the siren call of the East and followed it to the foothills of the Himalayas. The ways they were called to make the journey, their experiences along the way, and their meeting with Maharajji form the core of this multicultural adventure in shifting consciousness.
The contributors share their recollections of Maharaj-ji and how his wisdom shaped their lives. All have attempted to follow Maharaj-ji's basic teaching, his seemingly simple directives: Love everyone, feed everyone, and remember God. All have found their own way to be of service in the world and, in so doing, have collectively touched the hearts and souls of countless others.

Product Details
Format:  Hardcover

ISBN:

 

9780062342997
ISBN 10:

 

0062342991
Imprint:

 

HarperOne
Published:

 2015

Trimsize:

 

6.00 in (w) x 8.00 in (h) x 1.31 in (d)
Pages:

 

400
Reviews

"These are 'love stories,' providing an intriguing glimpse into the possibilities for spiritual change and reminding readers that 45 years ago, young people looking for something more help spark significant cultural shifts." Publisher's Weekly
"It is the story of a generation (my own) that went to India to learn how to live, to actually be happy … It is the story of a time and a place that also symbolizes our own intrinsic human potential at any time, in any place." Sharon Salzberg, author of Loving kindness and Real Happiness

"Love Everyone vividly captures a seminal moment in Eastern wisdom and spirituality making its way to the West. Parvati Markus's lucid account skillfully weaves this group memoir into a modern-day Pilgrim's Progress." Daniel Goleman author of A Force for Good: The Dalai Lama's Vision of Our World

"The grace-filled stories of Ram Dass and those who met his beloved Guru have inspired and opened the hearts of millions. Here you can join them on their beautiful journey and connect with the grace and love yourself." Jack Kornfield, author of A Path With Heart
"Reading this book is like gazing at a precious Jewel. At first we see the beautiful surfaces, that shine and glitter, but gradually the inner radiance of the gem is revealed. Neem Karoli Baba is that Inner Radiance, the love that lives within us as who we truly are." Krishna Das, "chant master" and author of Chants of a Lifetime
"…I've learned that nothing truly great can be accomplished without loving each and every one. But the trick is that not only saints like Neem Karoli Baba can love everyone; we can, too, when our hearts are open. This book will open your heart." Dr. Larry Brilliant, epidemiologist, author, senior advisor at the Skoll Foundation
"Every word of this luminous collection carries the butterfly kiss of the saint it celebrates… It is a living testament to a love that transcends all form, and a clarion call to shift from the ego to the heart, where loving everyone is not only possible, but the only possibility." Mirabai Starr, author of God of Love and Caravan Of No Despair
"My dear Dharma sister Parvati has opened the radiant heart of Maharajji, which embraces us all-the whole world-and generously shares its miraculous, heart-opening warmth, inclusive love and wisdom, for anyone who cares to see, hear, feel, inquire, unmask, awaken, and transform. " Lama Surya Das, author of Awakening the Buddha Within, and Make Me One With Everything
"Maharajji's true love overawed both my New York motor mind and youthful egocentric heart, changed my life totally, and has never left me-distance or death be damned. " Lama Surya Das, author of Awakening the Buddha Within, and Make Me One With Everything
"This little heart of mine cannot hold that much joy and love. It feels as if i'm living each one of the stories. I'm filled with gratitude beyond measure. Thank you from the bottom of my heart." Durga Sanchez, yoga teacher and kirtan leader.
"[Markus] has documented both the passion and the credibility of what she has recorded and she's done it in a manner that takes readers on the journey with those who are reliving it in narrative." Anna Jedrziewski, Retailing Insight
"The stories feel as though they are being re-experienced at the moment of recall, decades later.... The concluding Satsang chapter provides 'where are they now' bios of the book's seekers... For them, saving the world became a matter of serving it."
Spirituality and Health Magazine
Share