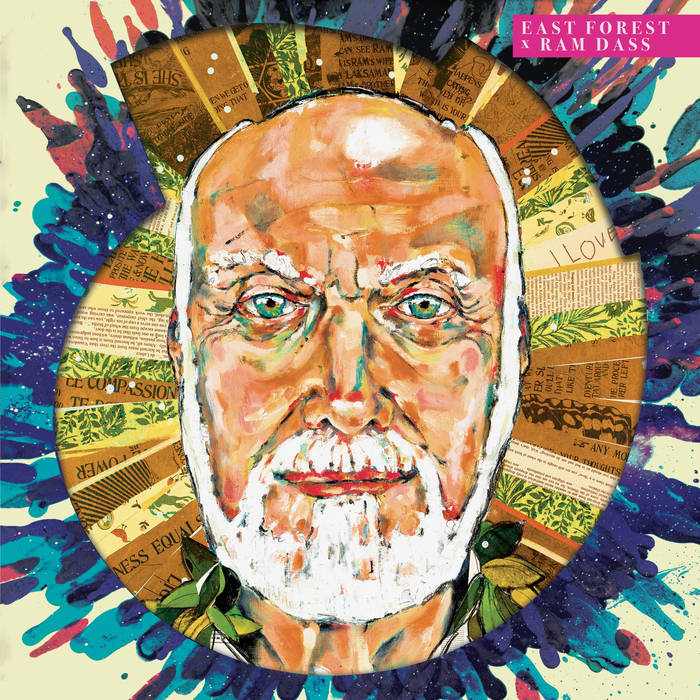 East Forest x Ram Dass (CD Album)
Ram Dass and composer East Forest join forces for a full length album featuring new teachings from the acclaimed spiritual teacher. East Forest x Ram Dass spans a 14 track journey embedded with spiritual wisdom.
The collaborative work features topics around technology, nature, soul, death, psilocybin, the idea of guru, circular thinking, witness consciousness, karma, the mind, as well as classic Ram Dass stories of miracles and his early journeys in India and more.
Product Description
East Forest was invited to Ram Dass' home in Maui to join in conversation and record brand new teachings from the legendary teacher. After capturing these words of wisdom, East Forest returned to his studio in the high desert of Southern Utah to compose the soundtrack to beautifully support each songs' subject. In these new recordings, Ram Dass' words speak masterfully to the modern challenges that so many face with technology, dark thoughts, the nature of soul and so much more. The new East Forest record also features guest appearances from the likes of Trevor Hall, Stic of Dead Prez, The Mynabirds, and Grammy nominated artist, Krishna Das, all framing Ram Dass' teachings with contemporary voices and cementing the 88 year old spiritual teacher into an echelon of relevancy and immediacy — offering a direct antidote for a highly polarized nation that is deeply in need of a universal voice of wisdom, connection and unconditional love.  
Product Details
The complete Ram Dass album on CD + digital download, and lyrics (digital PDF); the packaging contains track listing and original paintings by Elizabeth Hilton of Ram Dass and Maharaj-ji! 

Includes unlimited streaming of Ram Dass (2019) - FULL Album via the free Bandcamp app, plus high-quality download in MP3, FLAC and more.
Format: CD Compact Disc
Published: August 9, 2019
Track Listing
Nature 03:07     
Dark Thoughts 03:41
I Am Loving Awareness (feat. Krishna Das) 10:03
Mind Karma (feat. Trevor Hall) 04:43
We Are Truth 05:22
Home 03:34
Please Pass The Bliss 02:49
Perfect, Perfect 04:10
Electronic Sea (feat. stic of Dead Prez)04:12
SouLand (feat. Laura Bird of The Mynabirds) 04:33
Like Taking Off An Old Shoe AKA Death 04:13
A Miracle 09:55
You're A Guru 03:51
Love Everybody 03:22
Credits
All music written, produced, mixed and engineered by East Forest 

Ram Dass - spoken word 

East Forest - Vocals, Piano, Percussion, Synthesizers, Fender Rhodes, Wurlitzer, Organ, Field Recordings, Drum Programming, String Arrangements 

with, 
Laura Bird of The Mynabirds - Vocals 
Stic.man of dead prez - MC 

Owen Hofmann-Smith - Double Bass 
Kyleen King - Viola, Violin, Bass Guitar 
Thacher Schmid - Viola, Violin 
Will Dudley - Kora 

Huntley Miller - Mastering 

Daniel F. Birch - Graphic Design 
Elizabeth Hilton - Ram Dass and Maharajji Paintings 
Amond AJ Jackson - Additional engineering, "Electronic Sea"


Tim Cook - Executive Producer 
Raghu Markus - Love Serve Remember Executive Director 

Recorded at Boulder Rock Studios (Boulder, UT), The Map Room (Portland, OR) and Ram Dass' study (Maui, HI) 

All field recordings captured in and around Ram Dass' home on the island of Maui, Hawaii
About East Forest
East Forest has been the leader of underground 'sound healing' ceremonies around the world since 2008. Using music as a tool, he has trailblazed the field of organic tech, building bridges between the digital and natural world. Being fully independent and playing in the private shadows allowed the sound of East Forest to emerge: an emotional and spacious musical lexicon with a sound that took shape out of a practical need to play solo for five to six hours while guiding a room full of listeners in deep meditation. Live looping and layered keyboard melodies filled the musical space while angelic vocals and original field recordings floated above.  
Word organically spread and a devoted community shared East Forest's early albums, many of which were live recordings captured directly from his sound healing performances.  
East Forest's electro-acoustic ethereal sound continued to evolve and he found himself performing in a diverse range of settings from SXSW, Google, Mysteryland, to Grace Cathedral, Summit at Sea, as well as his own TEDx talk.  
More than a dozen albums later, East Forest continues to explore a path of emotionally driven music that pulls from ambient, classical, electronic and indie-pop genres.
Share