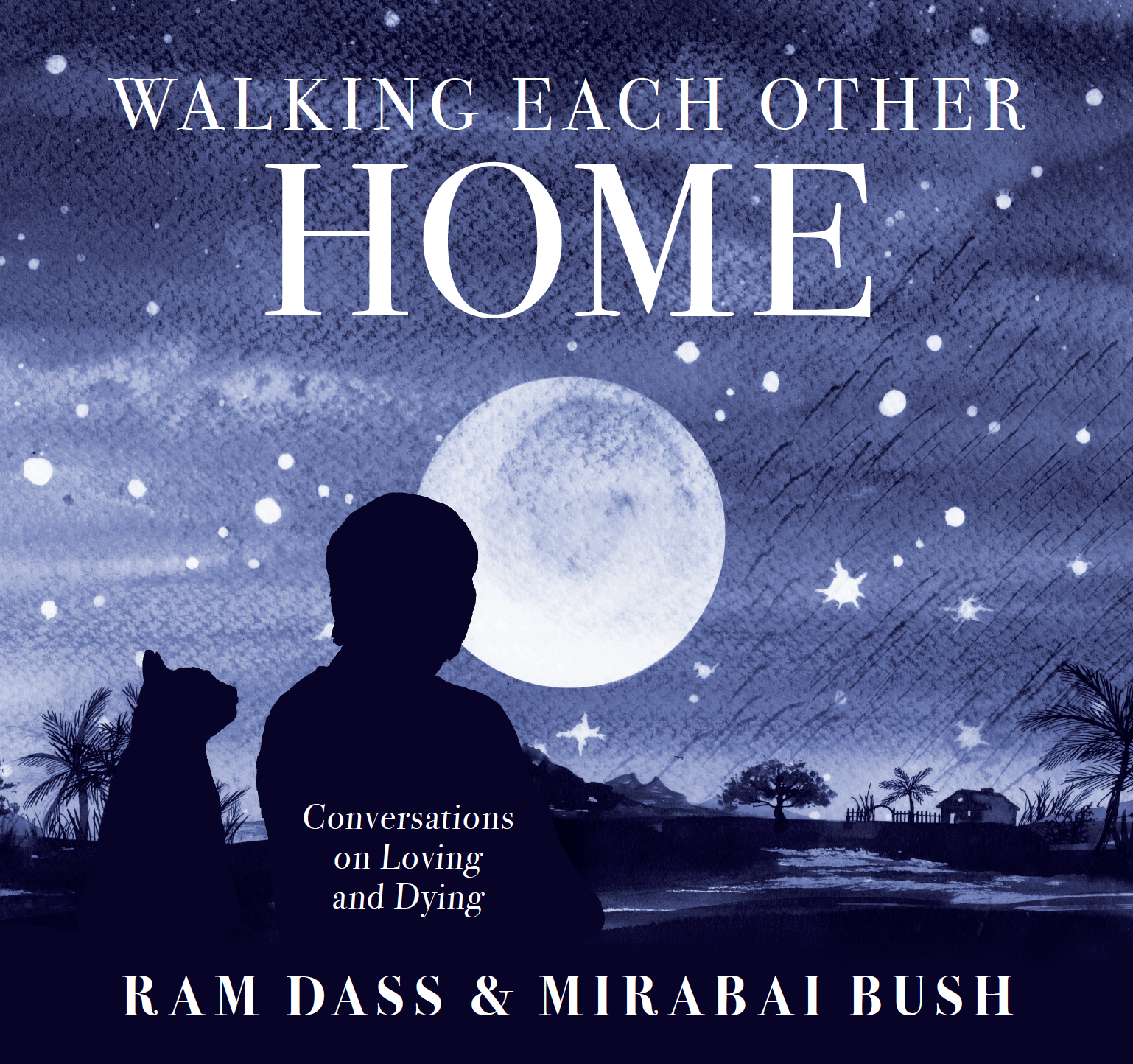 We all sit on the edge of a mystery. We have only known this life, so dying scares us—and we are all dying. But what if dying were perfectly safe? What would it look like if you could approach dying with curiosity and love, in service of other beings? What if dying were the ultimate spiritual practice?
In Walking Each Other Home, readers will learn about: guidelines for being a "loving rock" for the dying, how to grieve fully and authentically, how to transform a fear of death, leaving a spiritual legacy, creating a sacred space for dying, and much more.
[split]

An intimate dialogue between two friends and luminaries on love, death, and the spiritual path.
 
Ram Dass and Mirabai Bush began their friendship more than four decades ago at the foot of their guru, Neem Karoli Baba, also known as Maharaj-ji. He transmitted to them a simple philosophy: love everyone, tell the truth, and give up attachment to material things. After impacting millions of people through the years with these teachings, they have reunited once more with Walking Each Other Home to enlighten and engage readers on the spiritual opportunities within the dying process. They generously share intimate personal experiences and timeless practices, told with courage, humor, and heart, gently exploring every aspect of this journey. And, at 86 years old, Ram Dass reminds us, "This time we have a real deadline." 
"Everybody you have ever loved is a part of the fabric of your being now," says Ram Dass. The body may die, but the soul remains. Death is an invitation to a new kind of relationship, in the place where we are all One. Join these two lifelong friends and spiritual luminaries as they explore what it means to live and die consciously, remember who we really are, and illuminate the path we walk together. 
Product Details
Format: 9781683649427 (240 Pages)
Date Published: September 04, 2018
Publisher: Sounds True
ISBN-10: 1-68364-200-7 
ISBN-13: 978-1-68364-200-8
Dimensions:  8 x 8
Praise
"I am going to give everyone I know a copy of Walking Each Other Home. This book, this experience, this path of confronting our fear of death, will radically improve their lives, open them to love and presence and joy. Ram Dass and Mirabai Bush show us—beautifully, deeply, and with such humor—how profound and magical our lives can be as we become less and less afraid of death. I love Ram Dass more than I can say, but at least I can manage to say, 'Thank you, thank you, my brother, my teacher, my buddy, for your company as I make my way home.'" —Anne Lamott, author of Hallelujah Anyway and Traveling Mercies
 
"A raw diamond of a book. An invitation into love. Of course, it is a how-to manual for dying (and therefore living) and for being with the dying. It is Ram Dass and Mirabai Bush's generous offering to walk us home. But beyond these things, it is an invitation to sit in Ram Dass's presence as he is now. To breathe in the Grace that blows through the Maui air, and that Ram Dass's current state makes space for. If you've ever had the thought that you wish you could sit with Ram Dass, or your own teacher, reading this book is your chance." —Helen Hunt, actress, director, and screenwriter
 
"Like beautiful music, you can hear Ram Dass's wisdom and heart full of love and Mirabai's deep harmony." —Joan Baez, musician and activist
 
"As Time moves through us, wearing out our bodies, it becomes more and more important to turn more deeply within and find the Timeless One in the heart. Ram Dass and Mirabai Bush point out the beauty and love to be found in living with loving awareness of the inevitable dissolution of the physical body." —Krishna Das, singer of Kirtan Wallah
 
"If there's one book that should be on everyone's bucket list, it's Walking Each Other Home. Ram Dass and Mirabai Bush share their wisdom on dying, that singular dance we all have on our docket." —Daniel Goleman, author of Emotional Intelligence and Altered Traits (with Richard J. Davidson)
 
"It's a blessing to have such dear friends explore their thoughts and feelings on a subject many of us find difficult. With the wisdom of loving acceptance, Ram Dass and Mirabai Bush share how we might prepare for the transition out of this life. Walking Each Other Home transcends any praise that could be given." —Sharon Salzberg,author of Real Happiness and Real Love
 
"What a magnificent gift—teachings that soothe our deepest fears—wise, tender, intimate, heart-opening, and full of love. Don't miss it!" —Jack Kornfield, PhD, author of A Path with Heart
 
"On long road trips, my mom would sometimes play Ram Dass lectures, and I would pretend not to listen, hoping she couldn't tell how much I liked them. Many years later, after she passed away from metastatic breast cancer, I was lucky enough to spend an afternoon with Ram Dass at his home in Maui. I said to him 'I wish my mom was here. She loved you.' To which he responded 'She is here.' This book made me feel like I was there again, being reminded that love never dies and that our hearts can open even in the depths of grief. If you think at some point you may die, then this book will be an invaluable tool in helping you transform the mind-crushing terror you're pretending not to feel." —Duncan Trussell, podcaster, The Duncan Trussell Family Hour
 
"This extraordinary book on being with dying is tender, brilliant, wise, and true. It is a guide and inspiration for a whole and holy living and dying." —Roshi Joan Halifax, author of Standing at the Edge and Being with Dying
 
"This is an astonishing book—a sacred exchange between two old friends, permeated by wisdom and humor, rooted in curiosity and compassion. By holding up the lamp of his own process of letting go of the body with love, Ram Dass is showing us all the way to die. I find myself looking forward to the adventure." —Mirabai Starr, author of God of Love and Caravan of No Despair
 
"In this intimate, brave, and far-ranging conversation between dear old friends, Ram Dass and Mirabai take us by the hand on their journey through living, dying, loving, and ordinary life. With the ease of two old farmers sitting on the porch discussing the changing weather, they range from profundity about dying to practical advice about living, while all along the way, they deliver us lovingly into the present moment. This is one trip you'll want to take!" —James Gimian, executive director, Foundation for a Mindful Society
 
"I've never died, but I'm very interested in trying it one day. Thanks to Ram Dass and Mirabai's remarkable book Walking Each Other Home, we can all approach the mystery of dying with so much more love, openness, and gratitude than I ever thought possible. If you or someone you love is at risk of dying one day, this book is a must read." —Pete Holmes, comedian; creator and star of HBO's Crashing
 
"In their poetic and captivating dialogue, Ram Dass and Mirabai Bush reflect on what it means to be human: to live and love; to experience joy, heartbreak, and the fear and freedom that laying it all aside brings as we awaken to our true Self. Walking Each Other Home is a deep and genuine transmission of the heart—a gift for us all." —Chris Grosso, author of Indie Spiritualist, Everything Mind, and Dead Set on Living
 
"Full of wisdom, compassion, and deep experience, these conversations bring the reader joy as Mirabai and Ram Dass search inside for the interconnections of love, life, and death. Mirabai is a gem. She was a key player in establishing mindfulness at Google, where it is transforming the workplace." —Chade-Meng Tan, Google's Jolly Good Fellow and author of Search Inside Yourself
 
"What could be better than sitting in on a conversation between two of the wisest beings around? In Walking Each Other Home, Ram Dass and Mirabai Bush share their understandings of the great mysteries of love and death, and how the two so intimately inform each other. This wonderful book is a heart-opening, wisdom-deepening exploration of our shared human journey." —Joseph Goldstein, author of Mindfulness: A Practical Guide to Awakening
 
"The final words Ram Dass speaks in this book are 'I love you.' Those words sum up his life, and perhaps his purpose, in sharing the truth, compassion, and soul captured in this inspiring, intimate exchange. It is his loving gift to us about the most important thing we will do in this life." —Frank Ostaseski, founder and director of the Metta Institute; author of The Five Invitations: Discovering What Death Can Teach Us About Living Fully
Podcast
Mirabai Bush and Raghu Markus join Ram Dass to celebrate the release of Ram Dass and Mirabai's new book, Walking Each Other Home, and the group shares a conversation about how embracing death can allow us to live more fully.


Share