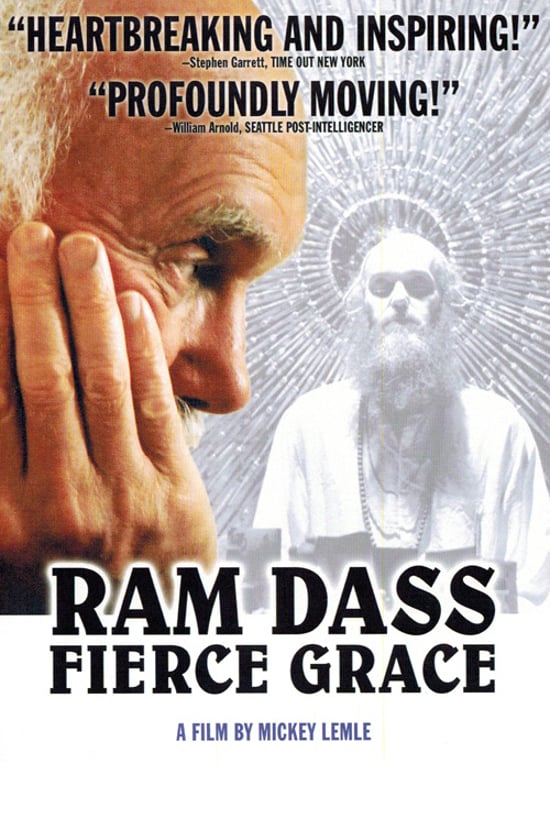 Harvard professors Richard Alpert and Timothy Leary made countercultural history in 1963 when they were fired from that institution for conducting controversial psychedelic drug research. In the purple haze aftermath, Alpert journeyed to India and found his guru Maharaj ji, who renamed him Ram Dass ("Servant of God"). Best known for his 1971 bestseller BE HERE NOW, which was a spiritual touchstone of the era, Ram Dass became an inspiration to people across the globe. Filmmaker Mickey Lemle—who has known his subject for more than twenty-five years—intersperses vivid archival footage from hippiedom's glory days with intimate glimpses of Ram Dass, as he continues to remake his life since being—in his words—"stroked" in 1997.

Named by NEWSWEEK as one of the Top Five Non-Fiction Films of 2002, RAM DASS FIERCE GRACE is an engrossing, poignant meditation on spirituality, consciousness, healing and the unexpected grace of aging.[split]
Watch a preview below:
About the Film
RAM DASS FIERCE GRACE is a funny, poignant feature length documentary. It is not so much a biography as it is a film which captures the spirit and wisdom of a man who has been at the forefront of studying the nature of consciousness for the past 45 years. It shows how he has taken all he has learned and explores how he applies it to dealing with the effects of a massive stroke he suffered in February 1997.
Ram Dass has been teaching about spiritual matters for over 30 years.  As we see how he deals with his stroke, it is perhaps his greatest teaching. It seems to touch the hearts of many people who are facing suffering in their own lives. In this way, as Ram Dass learned, it is truly grace, FIERCE GRACE.
Appearances by Dr. Larry Brilliant, Wavy Gravy, Shana Roth, Caryl Sircus, Steve & Anita Isser, William Alpert, Dr. Ralph Metzner, Dr. Huston Smith, Rosemary Woodruff Leary, Bhagavan Das, Carolyn Ruth Chan, Lynne Oberlander, Krishna Das, KK Sah, Dr. Ming Qing Chu, Mark Matousek, Robert McDermott, Abby Reyes
Praise & Reviews
"Equals any transcendent moment you're likely to find in a fiction film, a novel or a 'manual for conscious being'." - Michael Almereyda, The New York Times
After a recent screening, one 33-year-old Casting Director said, "It made me feel safe. I feel like I could handle whatever life has in store for me." A 58-year-old Art Dealer said, "It broke my heart and reaffirmed my faith at the same time." A 26-year-old Actress said, "I want 10 copies of this movie to give to my friends who think they are suffering." A 42-year-old Psychiatrist said, "Not only did I feel like I witnessed the journey of a life well spent, but I feel as if I went on a profound journey within."
Details
Running Time: 93 Minutes
Language: English
Format: DVD (All Regions); Color 1.85:1
ISBN: 738329245207
© 2001 MMI Lemle Pictures, Inc.

Share